Team Members: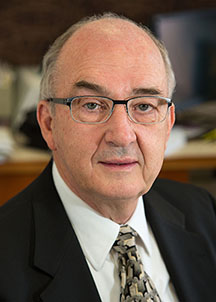 ERNEST M. WRIGHT, FRS
Distinguished Professor of Physiology and Sherman Mellinkoff Professor in Medicine
‌ ewright@mednet.ucla.edu
Wright was born in Belfast, N. Ireland and educated in Ulster and England. He earned his B.Sc. in Physiology and Chemistry from the University of London (Chelsea College of Science and Technology) and his Ph.D. in Physiology at the University of Sheffield under the tutelage of Professor David Smyth FRS. He was a member of the faculty at Sheffield for two years prior to a Fellowship at Harvard where he studied with Jared Diamond, Peter Curran and Stanley Schultz in the Biophysics Laboratory headed by Arthur K. Solomon. In 1978 he was awarded a D.Sc. in Physiology from the University of London.
In 1967 he joined the faculty of the Department of Physiology at UCLA School of Medicine headed by Wilfred Mommaerts. Wright served as Chair of Physiology between 1987 and 2000 and was awarded the Sherman M. Mellinkoff Distinguished Professorship in Medicine 1999. He was Visiting Professor at the Center for Advanced Studies at the National Polytechnic Institute in Mexico City in 1973, at the Max Planck Institute for Biophysics in Frankfurt in 1974-1975, and Queen Elizabeth College, London in 1977.
Awards/Honors:
2013 Member of the National Academy of Sciences
2012 Homer W Smith Award, American Society for Nephrology
2006 Member of the German Academy of Science (Leopoldina)
2006 101st UCLA Faculty Researcher Lecturer
2006 Honorary Member of the Physiology Society (UK)
2005 Fellow of the Royal Society (UK)
2005 Fellow of the Biophysical Society
TEAM:
Donald D.F. Loo
Chiara Ghezzi
Wendy Ravenhill
Collaborators:
Jeff Abramson, UCLA, Paola Bisignano, UCSF, Jorge Barrio, UCLA, Michael Grabe, UCSF, Vladimir Kepe, Cleveland Clinic, Monica Sala-Rabanal, Wash U, Thomas Zeuthen, U Copenhagen.